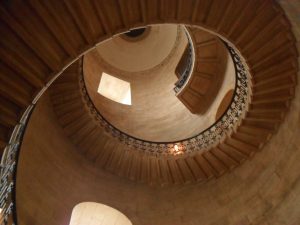 A student recently asked me to share my thoughts on "happiness independent of conditions." This phrase is widely used in meditation circles, but many people have only a vague intellectual sense of what it means, or worse, a belief that it's an unattainable goal.
Rather than deepen the intellectual hole, here's a bit of pragmatic, direct experience…
The way things seem to be going, as I become more mindful, a wider and wider range of sense experiences (the sounds, sights and sensations that make up each moment) become ok. Acceptable. Peaceful. Safe. Sometimes even quite wondrous and beautiful. I still want to improve my life in various ways, but I am willing to be with sense experience as it is, more deeply, and more consistently. In other words, there's less resistance to the way things are, and therefore, as the Buddhists put it, less suffering.

The side effect of this is that happiness tends to arise. A lot. The narrative is something like, wow, what a relief to not be suffering in this moment! What a profound difference from a moment ago, or the last time this situation presented itself, when I was suffering about it!
One tangible example: I was at a TV premier party on Tuesday night. Surrounded by a lot of ego. More to prove than your typical crowd. Add in an open bar and there was also, I'd guess, less mindfulness than average. Painful thoughts were arising—some people are more important than others, this is a place for competition and showing off, I'm not worthy, etc. But when those thoughts arose, rather than letting them define me, I just observed them. Mental images. Internal talk. And waves of emotional sensation: awkwardness, self-consciousness, sadness. Maybe not even emotions I could recognize by name. Just feeling. In separating the sensory pieces in this way, and meeting each one with a "YES!", they just flowed through, one after another. The realness of the thoughts dissolved. Unpleasant feelings washed through my body in a way that felt, at times, blissful. I was clear, peaceful, relieved, happy. It was remarkable how much suffering I was avoiding. And outwardly, you might have thought I was just another party-goer, albeit with a little twinkle in my eye.
This is happiness independent of conditions. As practice evolves over the years, we notice this state more clearly, and it spontaneously arises more often, in a wider and wider variety of circumstances.* We gain more freedom to step into this state. We rely on it as a resource. It makes life feel safe. It brings a deep compassion for how much suffering people are often trapped in. And it brings a deep humility, maybe even a sense of humor, about the moments when we find ourselves back in that old place.
The path isn't linear. It certainly hasn't been for me. But I'm a westerner, and based on my website statistics, you probably are too. Westerners like to measure progress. We like to think we're going somewhere. To that end: how do you know if you're moving along in the way I'm describing? Ask yourself these questions:
Has your meditative experience improved your daily life? (We're talking on the scale of months and years.)
Do you experience more ease?
Is there more kindness? Self-compassion? Happiness?
Is it easier to go after the things you want and avoid the things you don't?
Is there a growing self-knowledge, and understanding of the human condition?
Is there a strengthening moral compass?
Most importantly, are you getting what you want to be getting out of meditation?
A holistic view of human happiness encompasses a lot of variables, and many different arcs of development. Cool thing is that mindfulness is at least a component—a supporting feature—in just about every one of those arcs.
Two final thoughts (as if I haven't gone on long enough):
Getting to the point where you have a pretty magical-seeming ability to step out of the ordinary suffering of daily human life is not at all an unreasonable goal. I know there's that book floating around called "10% Happier". I would say the author is shooting way too low. How about 200% Happier? 300%? This is not some far out mystical notion that we can never hope to achieve. It's tangible, applicable, and well worth the effort (IMHO).
By no means does this imply that sadness, awkwardness, anger, fear, etc. will no longer arise. Same deal with physical pain. And confusion. All that stuff—it's here to stay. What we are talking about is a change in the relationship with all that, which turns out to be 90% of the issue. My teacher Shinzen likes equations. SUFFERING = PAIN x RESISTANCE. We can't change pain. At least, not always. We can change resistance.
How's that?
*you might be surprised how challenging this is even in simple moments like sitting in traffic or standing alone on a dance floor.